Albert J. Cloutier - Founder of Honolulu Uechi-Ryu & Head Instructor
Erik D Swanson
Nidan​ - Assistant Instructor
​Albert J. Cloutier (Al) began training in Karate in 1974. He holds blackbelts in Uechi-Ryu Karate (Yondan), Traditional Japanese Jujutsu (Shodan), and has practiced Muso Jikiden Eishin Ryu Iaido for several years. Al started Honolulu Uechi-Ryu in 2010 as informal study group in the park. Since that time, it has grown into a well-respected dojo in Hawaii - with long distance students in Australia and Japan.
​
​Al's main teachers years have been:
​
​Ron Wanderlich (Isshin-Ryu 1974 -1976)
Rollie Hardwick (Uechi Ryu 1976-1978)
School of Hard-Knocks (Unafilliated Ronin from1980 - ​2012)
Henry Thom (Uechi-Ryu 2012 - Present)
Wayne Muromoto (Takeuchi-Ryu Jujutsu - Muso Jikiden Eishin-Ry Iai 2017 - Present​)​
Joey Paman - Arnis & Ngo Cho Southern Shaolin Kung-Fu​ (2021- Present)
​
Al has also trained with the following instructors at various seminars:
​
​​​​​George Mattson (10th Dan - Uechi-Ryu)
​Haruyoshi Shimabukuro (8th Dan - Uechi-Ryu)
​Arcenio Advincula (10th Dan - Isshin-Ryu)
Tino Ceberano​ ​​(9th Dan Goju-Kai)
​Buzz Durkin (10th Dan - Uechi-Ryu)
Judy Durkin (9th Dan - Uechi-Ryu)​
​​Jim Malone (10th Dan - Uechi-Ryu)
​James Thompson (10th Dan - Uechi-Ryu)
Darren Yee (10th Dan - Uechi-Ryu)
​Bob Bethony (10th Dan - Uechi-Ryu)
​Al Wharton (10th Dan Uechi-Ryu)
​Leyn Burrows​ (9th Dan - Uechi-Ryu)
​​​Dan Dovidio (9th Dan - Uechi-Ryu)
​Tracy Rose (9th Dan - Uechi-Ryu)
​Roy Bedard (7th Dan - Uechi-Ryu)
Keiran Tong (Sifu -Tai Chi - Kung-fu)
Etty Nomura ​(Sifu - Wu Dang - Kung-fu)
Allen Bennett (​8th Dan - Uechi-Ryu)
Amanda Bennett (7th Dan - Uechi-Ryu)
Richard Bennett (6th Dan - Uechi-Ryu)

is maensei have been
Al believes that the practice of martial arts should develop a person's character and instill important values. Everything a person learns in the dojo, they should be able to apply everyday life. This is much more important than merely learning how to fight. It is more valuable to develop the following:
​
Rei: etiquette or politeness
​
Al feels fortunate that, at 63 years old, he is training daily, is still learning new things, and working hard to pass on the treasures of Uechi-Ryu​ Karate and Budo to his students in Hawaii, Japan, and Australia.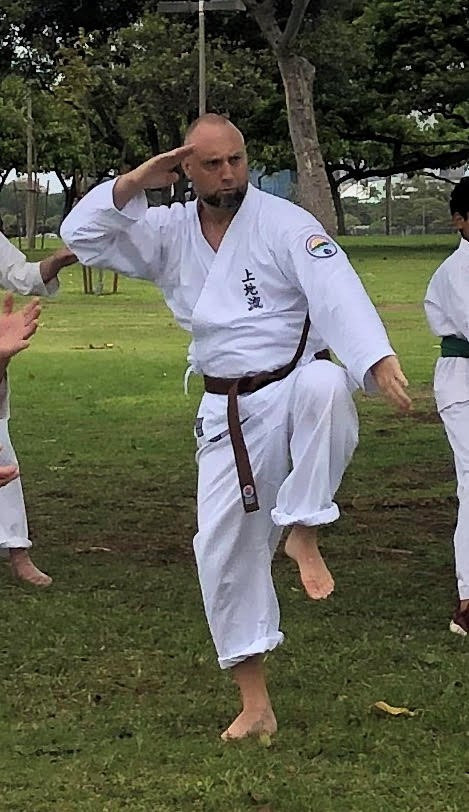 Mark Wilding & Jashua Walker
Shodan - Assistant Instructors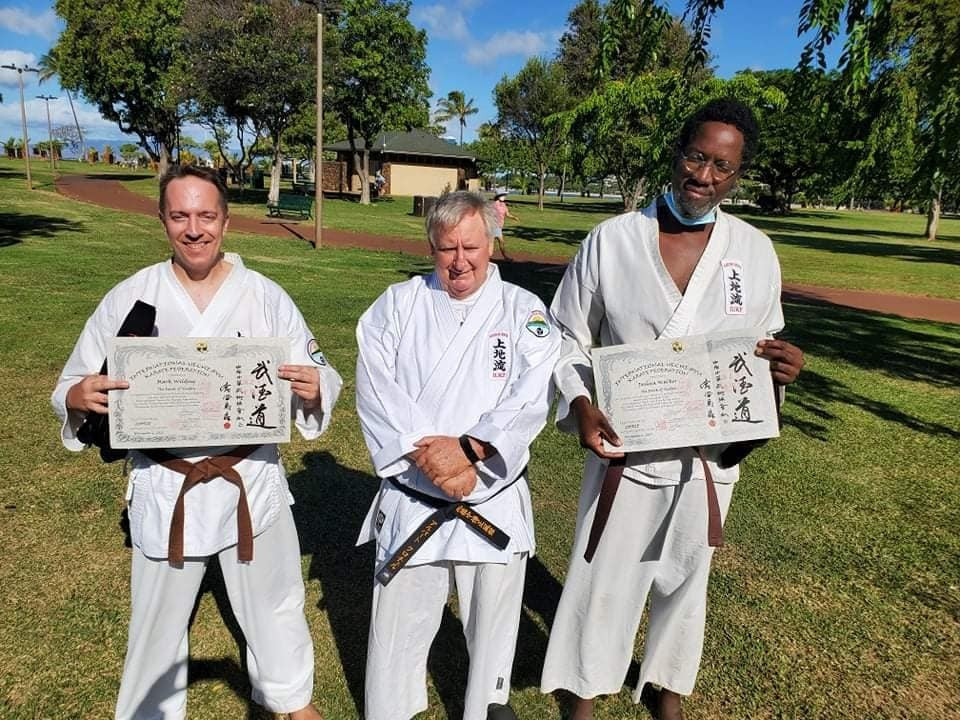 Jose G Paman - Instructor - Ngo Cho Southern Shaolin Kung-Fu & Kombatan Modern Arnis
Manila, Philippines-born Jose (Joey) Paman has practiced and taught Ngo Cho kung-fu for over 30 years and holds advanced instructor degrees in arnis, karate and jiu-jitsu.

​​The dynamic art of Ngo Cho kung-fu features the vital elements of five ancestral systems, incorporating the footwork of lo han (Buddhist monk boxing), the hand techniques of pe ho (white crane), leg techniques of tai cho (grand ancestor kung-fu), evasive techniques and palm strikes of che tian ta sien (monkey style) and iron body training of fat chun (the Bodhidharma method).
​

A sister style of Fujian origins Ngo Cho Kung Fu shares many similarities to Uechi-ryu and Goju-ryu Karate.
​

The Ngo Cho Kung-Fu method Joey teaches derives from the teachings of two masters: Siensi Co Chi Po, originally from the Kong Han school in Manila's Chinatown, who branched off and taught at the Tong Hong Eastern Athletic Association. The second master Siensi Dee Se Giok, an immigrant to the Philippines from Taiwan, taught a version of ngo cho that emphasized the monkey boxing aspects of the art.

Honolulu Uechi-ryu is fortunate to have Joey ​training with us for the past couple years. He has been diligently learning Uechi-ryu and also sharing Southern Shaolin Kung-fu and Arnis with us.​ Typically, our Sunday session will include additional training in Arnis or Ngo Cho, after our regular Uechi-ryu workout.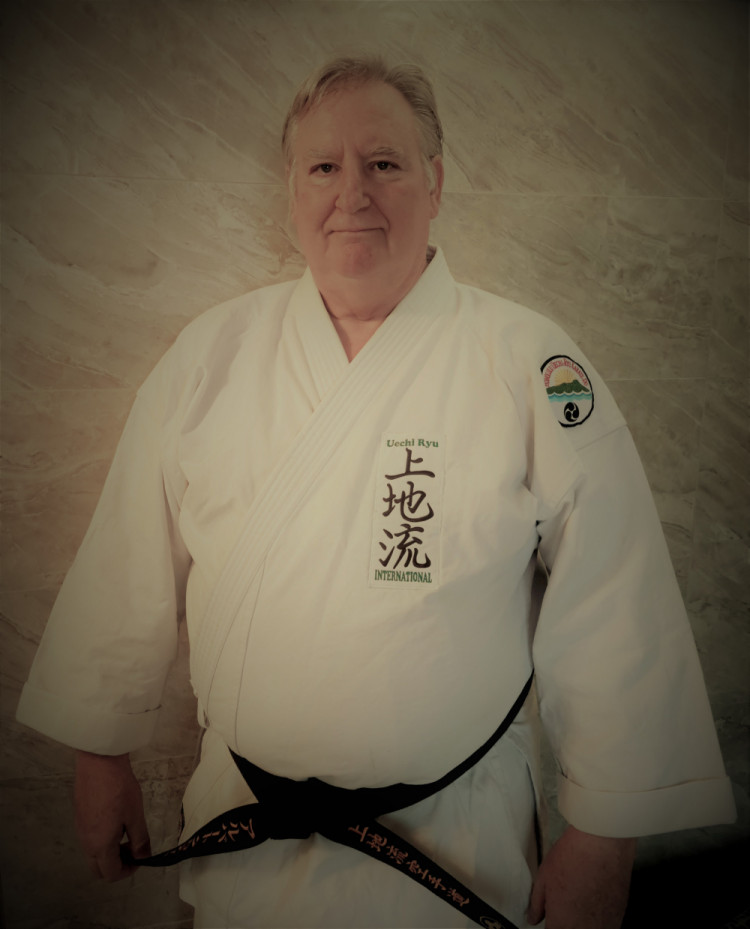 Honolulu Uechi-ryu has been very fortunate to have had many visiting "Guest Instructors" over the years. A few of them are listed here as a small token of our esteem and gratitude for them sharing their knowledge with us. We have learned something from every single one of them.

Daniel Bandieri
Darren Yee​
Paul Swift
Alan Bennett
Richard Bennett​
Heather Bennett
Amanda Bennett
Mark Spears
​Erin Spears
John Felipe
Duayne ​Swanson
John Spencer​
Nurys Saldana
Brendan Murray
Ted Lyons​
Bob Ditoro
Mike Johnson
Neven Thomas​​​
Gerry Hendewich​

And others....​​

In Memorial​​

Special Gratitude to Richard Wyrgatsch (1936-2017) - A good friend and mentor who received his Shodan directly from Kanei Uechi ​in 1959. He studied under Uechi-sama for 5 years from 1957 to 1962 when he served as a US Marine stationed in Okinawa. ​Al spent many an evening with Richard from 2012 - 2017 discussing Uechi-Ryu, the old days of training with Uechi-sama, and the "old ways" of authentic Karate. Richard served on the Honolulu Police Department for most of his life. He was a very good man and the epitome of what a Uechi-Ryu master should be: humble, soft-spoken, gentle, and kind. Rest In Peace, Richard.
​​​
​
​
​​
​​​​​​​